Looking over the ruined generators and turbines on the site of the burned-out
power plant, July 1924: in the background are some of the north
Kennecott cottages that were built in 1914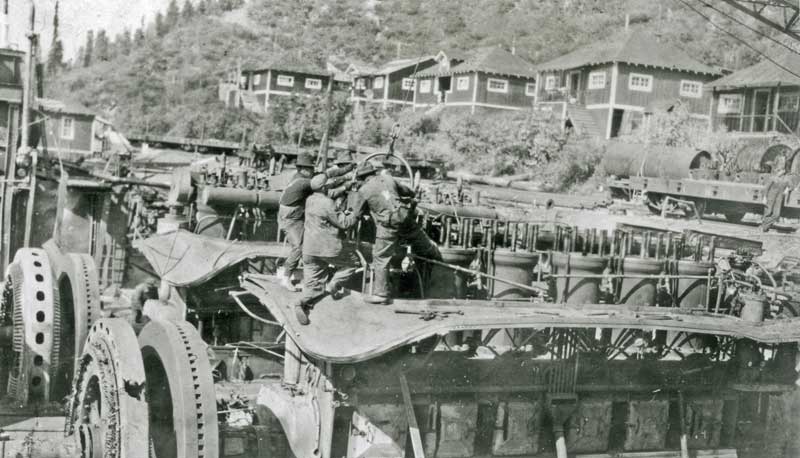 The four Erie
boilers were rebuilt in place, making them the oldest part of
the new power plant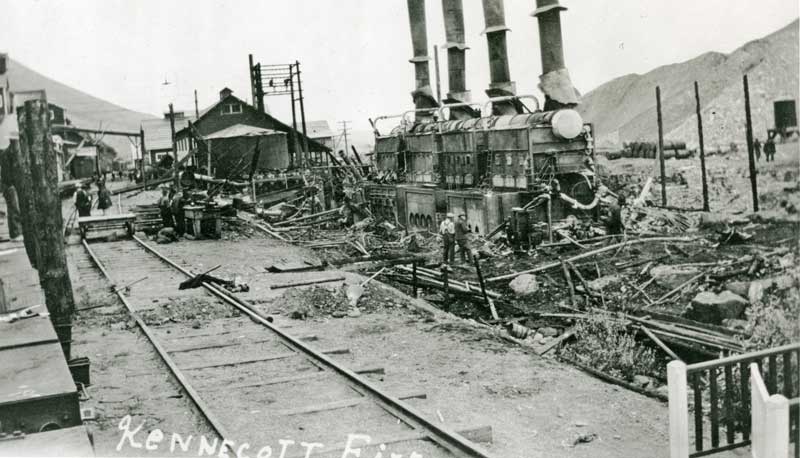 Beginning the
reconstruction of the Kennecott power plant: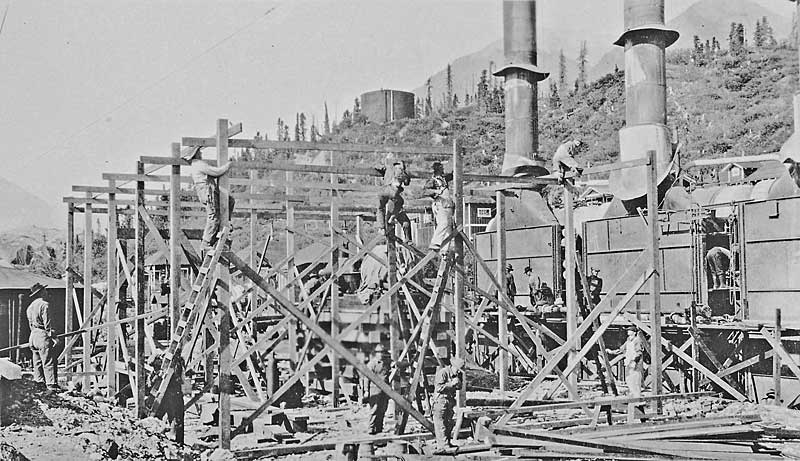 W.A. RIchelsen
photos

Chitina Local No. 71 was steaming up in preparation for pulling out of Kennecott with the usual
load of thirty-five cars of bagged ore and a Pullman combination
passenger and baggage coach up front. It was late in October. The snow
which sat for three weeks at the level of Jumbo had finally dropped
4,000 feet down to Kennecott. At first it was just a light dusting, but
a snow squall moved in to reinforce the first light layer. The storm
began to intensify as morning moved toward the afternoon. It began to
turn dark earlier than usual. The spectacular view of the nearby
glacier dimmed until only a hint of the enormous mounds could be seen.
At the front of the Pullman combine was the baggage compartment. On its
floor sat the coffin of the late Emil Gadanski, father of Johnny, the
son who stood on the high coach floor just inside the open sliding door.

A CRNW combine and
three day coaches
A large group of men from the many crews of the lower camp, as well as several
of the engineers from the office staff stood near the tracks in front of
the west barrack and company store in a silent tribute to the man who
had worked at Kennecott since the railroad arrived in 1911. It was
thirteen years later. In those few years, only a handful could claim to
have been at camp from the very beginning. A man who had become well
known among the mill site crews was taking his final journey home to
Chitina, accompanied by a son and an in-law who had worked a brief time
with him as his life came to a close in this remote camp of the lower
slopes of the Wrangells.
The group had assembled on a very short notice. Johnny Gadanski wanted to
leave immediately, but Bill Douglass held up the train long enough for
the group to perform a small memorial ceremony at the station for a man
who was very well liked. John Bittner played Amazing Grace on
his trumpet, causing all the women present and several of the men to
break down.
Johnny was moved by this unexpected show of emotion for this man who was his
father. He would leave seeing these residents of Kennecott in a much
different light. The group was saying goodbye to one of their own. The
camp always rallied behind its own. It was a temporary camp. Yet it had
a permanent look. The people who lived there became one large family.
It was the odd magic of Kennecott which united them.

Superintendent Douglass and Frank Buckner had come down to the front of
the train to see the late Emil off and to say farewell to Johnny and
Cap. Even Bill Morris and Eldon Johnson had come down from the mines to
pay their respects. Chris Jensen came over to shake the hand of Johnny
and say a few words of remembrance for Emil, who had worked under him,
as well as some words of appreciation to the son who was now there to
escort the body to its final resting place.
Johnny asked Frank to send a telegraph to McCarthy to alert Rose that he would
be coming through. He hoped to convince her to accompany him to
Chitina. The air turned even colder as the glacier valley darkened.
Heavy, fresh, wet snow began to whip around, splattering everything.
Engine 71 built up a large head of steam and blasted a single, loud
whistle signal. The crowd backed away from the rails as the locomotive
began to pull forward, its valves steaming loudly as it strained
against the nearly 4000-ton load.
There were no other passengers aboard. The coach attendant moved to the
separate passenger area, as Johnny and Cap stood at the open cargo door,
waving at Frank Buckner, Bill Douglass, Chris Jensen and all the others
who stood by until the train moved out of sight, while the others began
returning to the warmth of the various buildings. It was becoming too
nasty to remain outdoors. The attendant returned to the front and
closed the first of the two cargo doors. Cap closed the second,
snapping the latch into its locked position. They moved to the stove in
the baggage compartment, but it was cold.
"The stove in the rear is hot. You might as well come on back, boys. You've
already done your part up here. It's too cold here for the living."
The Indians walked all the way to the rear of the fifty-five foot-long
coach. The train had begun its 600-foot descent into McCarthy. It
would arrive in a matter of minutes. The Indians warmed their hands
with the heat of the coal pot-belly stove.
"I never thought I'd see anything like this, Cap. They came out in the
cold to see Dad off. It made me feel very special to be a part of what
just happened back there. Those people were genuine. I feel humbled."
"They do come together for one of their own, don't they? It's hard not to be
affected by what just happened. It was good to be there. Thank you for
this experience, Sla'cheen. We did what we said we would."
"I wish we could have brought Dad back to Chitina alive so Mom could have taken
care of him, like we planned. We stayed too long. No one seemed to
realize just how sick he was. I think he knew when he talked to me over
the phone that last time, but he wanted me to stay on at Erie. What do
you make of that, Cap?"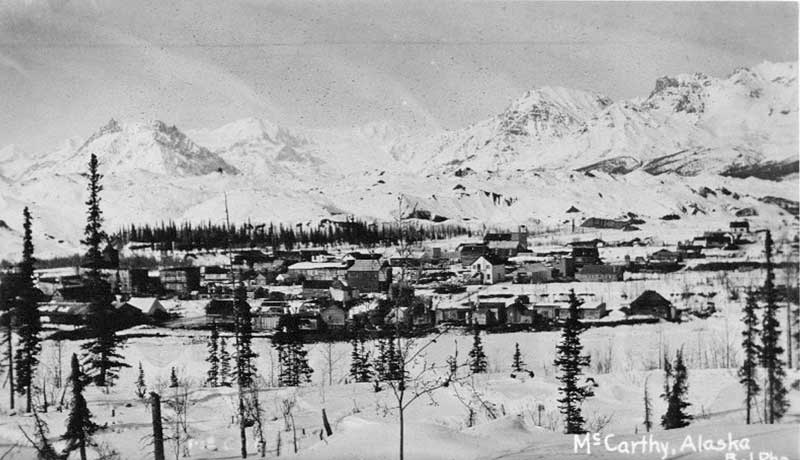 McCarthy in winter
--Ben Jackson photo
"Sla'cheen, his real home was not Chitina. It was Kennecott. He died where he wanted
to die. He never wanted to leave there. It was his choice. We're
taking him to our home because it makes us feel better, but your father
is already home."
Cap looked in the direction of the glacier, but saw nothing but snow
swirling as the winds continued to swirl the snow around in no
particular direction. The first snow storm of the season seemed to be
an unusually large one.
"It seems to fit, Johnny. It's the sloo-elth'chee--the wind coming
off the glacier. It's as if the Great Creator himself is greeting your
father."
He remained silent for the remainder of the brief trip into the junction.
"It is our time to go. We made our point just as we set out to do. We even had
a good time doing it. I may return someday. But this is not my life.
It was just an experience. It will be good to be home again."
Johnny did not reply. Cap continued.
"What about Rose? Do you think she'll be coming along?"
"Who knows? I want her to come with me back to Chitina. We'll have time to
leave the train at McCarthy and check on her anyway. I have a dog to
pick up. I hope Kay-yew-nee is still there."
"Oh that's right. Yew nee! I'll bet he wondered what happened to us. I'd
like to use him on my trap line this winter."
"Why don't you do that, Cap? The dog likes the wilds better than being in
town anyway. He's just like you. Wild, but solid and reliable."
There was no more conversation until the train reached Shushanna Junction near
McCarthy. Both young men stood up, straining to see ahead beyond the
blowing snows toward the station platform. Sure enough, the lean dark
figure of Rose was there, well dressed with a large hat held in place by
a bandanna. Right beside her was the Siberian mutt, happily waving his
tail with his ears straight up in eager anticipation. It was as if he
knew his old masters were returning.
Johnny and Rose hugged for a long time on the platform and then kissed while
Cap idly played with the dog. Cap was hoping this would not go on too
long. He wanted to get on with the trip. He hoped that he would not
end up overnight in McCarthy simply because Rose was unable to make up
her mind about leaving with Johnny. He began to feel a sense of
despondency. He knew that after he arrived at Chitina, the long
standing team would finally end. Cap found himself already regretting
something which had not yet happened.
Maybe I better concentrate
on doing my winter trapping. If I'm lucky, I'll find one of the
local girls to come along with me for the winter--maybe Shirley or even
Violet. No, not Violet.
I'd like to run a trapping line near Tonsina like I did
years ago with my father.
Haven't heard anything about him since I left. He must still
be in good health. Maybe I'll stay with him in Tonsina while I'm getting
ready to trap. First I'd like to have a good time at the billiards hall.
I think I could use a stiff drink. There's usually good female company
in the saloon next door.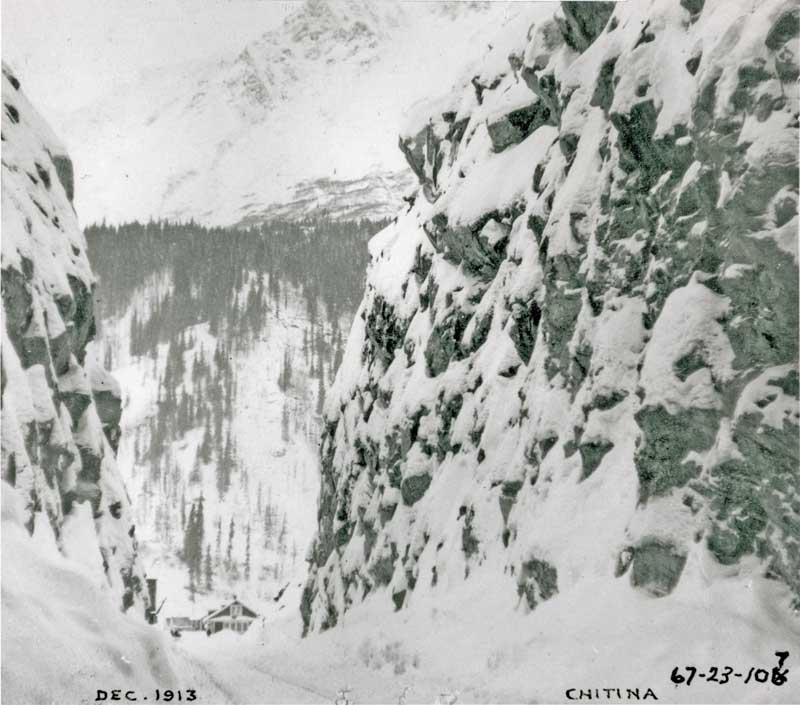 North approach
into Chitina --R.K.Woods Coll. UAF AK & Polar
Regions