Contained herein is
the complete "Historic Native adventure novel with a
twist of the supernatural," now online.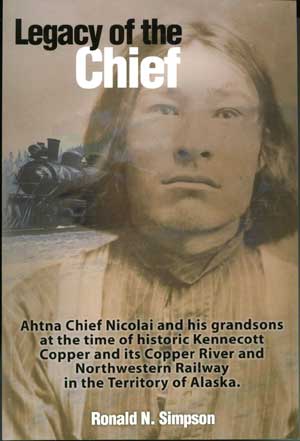 Below are the listings as links to all sixty chapters. You may click either
the chapter name or the associated image to the right.
Please note that I hold a 2001 copyright to the book, ISBN
1-888125-86-1. I purchased the rights to use the images which appear in
the book. However, those rights are not transferable and the images are mostly
copyrighted with the rights to their use held elsewhere.
--
©
Ronald N Simpson
,
2001, author,
L
egacy of the
C
hief
---
---

Ron Simpson:

This is the author. Not much can be said about him, except an interesting and
relevant family tree.




See it here

.




Wesley Dunkle:

He became famous geologist, largely due to his work as one of the original
Kennecott consultants, but also in his subsequent work to develop gold mines in
the Talkeetna Range. He lived most of his life developing Alaskan
resources at a time when Alaska was still mostly wilderness.




W.A. Richelsen:

Walter Richelsen was the chief engineer and also the last superintendent at
Kennecott. WA. appears at the beginning and also near the end of this
story. Walter passed away in 1962. Well into the 1950s he still worked for
Kennecott as its Alaska representative based in Seattle.




Johnny Gakona:
(picture is of Johnny Galauska, on whom Johnny Gakona
Gadanski is based)

Johnny is a composite (fictional) character half-breed, grandson of Nicolai and
a cousin to Cap created by the author to assist in the telling of this
story. It turns out he may have had a real historic counterpart as a sla'cheen
to Cap Goodlataw, who was a historic character. See the picture at the
bottom of this page.




Skolai Nicolai

Chief Nicolai,
the Tyone of Taral
: Nicolai was the Ahtna chief who made the deal with Lt. Henry Allen and later
with the prospectors and possibly even Stephen Birch himself. This book revolves
around the spirit of Nicolai although he rarely appears personally in this long
narrative.




Mary Birch:
(picture is generic of a high-society lady. no image is
available of the real Mary Birch)

She was the wife of Stephen. Her loudly-proclaimed negative attitudes toward
Alaska may have changed the course of history. It definitely served to change
Stephen Birch's attitude toward the original Kennecott investment. She is
one of those characters that people love to hate !




John DeHaviland:


(picture is generic. JD is wholly
fictional)


John is a fictional character working for a fictional San Francisco newspaper
who appears as a visiting reporter in Chitina, 1923. He decides to
interview Johnny Gakona upon a chance encounter at Chitina and in the process
provides some unique insights.





Stephen Birch:

"The Great Man," the man primarily responsible for the development of the
Kennecott mine systems in Alaska and the formation of the Kennecott Copper
Corporation who lead that entity as president and chairman of the board to see
KCC become the major copper producer in the entire world for several decades.





Frank Buckner:
(picture is of Frank Buckie on whom fictional character Frank Buckner is
based)

Frank was the junior engineer in Kennecott (under a slightly different name in
real life) who plays a central role in the drama which is about to unfold.




Cap Goodlataw:

Cap is the true Native hero in this story. He becomes the spirit of Nicolai,
taking over where Nicolai left off, trying his best to stem the tide as a world
he does not understand overtakes the Native ways of his deceased grandfather
Nicolai. He chooses not to accept this change in the way it unfolds even as he
attempts to survive within it.





Rosalene Nicolai Gadanski:
(picture is of

Elizabeth Peratrovich--a
most-fitting model on which to base Rosalene

Rosalene is the fictional daughter of Johnny Nicolai Gadanski who is himself
fictional. She is a composite character based on certain female Native leaders
of the 20th Century. She has one important role toward the very end of the
book putting some missing pieces in place.





The Ghosts of Kennecott and of the CRNW Railway :


The original term "The Ghosts of Kennecott" is the name of a book written by the
late

Elizabeth Tower. These are the spirits who continue to haunt what once was
a magnificent railroad that ran deep into the interior of Alaska and the Ahtna
Indian territory.















Kennecott Copper
Company's




Braden El Teniente Copper
Mine at Sewell, Chile in the 1930s:


Interview with the manager of KCC's largest underground copper mine
in the world--Bob Haldeman, who was KCC's representative in Chile during the
1950s, 60s and 70s. This is an excellent window into how Kennecott operated from
their inception in 1915 into the 1970s.




Link is here


or with the pix to the right ---->>>


















Link to t
he


Copper Rail Depot

large-scale model railroad, Copper Center, AK:
Ronald N. Simpson
/
Copper Center, Alaska