Chief Goodlataw's wife



Chief Goodlataw
"He was our most misunderstood chief, but father told me what really happened. Dad was haunted by the spirit of his grandfather. He never believed he measured up to the expectations of Nicolai. I think it finally destroyed him."
"Dad returned after twelve years of absence he never discussed, except to relate some experiences he had working on the Great Northern Railroad as a fireman. He only came back because he wanted to ride the last train into Kennecott. He didn't come back for us."
Rose's tone revealed a old resentment and a sense of loss.
"Dad must have had special connections high up to know when that last train would run.
"Dad was reluctant to talk about anything that happened in the States. I think he went for more education but something else happened down there. All we know is he ended up working for Great Northern. He seemed to love it.
"After he and Michael returned on a gas-powered rail car from Kennecott, he told Cathy that he would be taking Michael with him on to Cordova and that he would be sending for me.
"We only heard from Dad one more time after that. We believe the two of them boarded the S.S. Aleutian for the states. There was just one letter from him postmarked from Salt Lake City over two months after they left that told Cathy and me that he would not be returning to his old job with the Great Northern. So he could not take me back just then. No money. Then the two of them dropped out of sight. I never heard from Dad or Michael ever again."
"Mom became ill with tuberculosis shortly after Dad and Michael left. She died after many months of agony. It was awful. I never became ill, but I carry the disease. I test positive for TB. I was given to the care of relatives who lived in Anchorage."
"So we're traveling up this way because you want to see where your namesake lived?"
"I was named after Rose, who I believe was Dad's only true love. That didn't work, either. Dad never understood why Rose preferred men with lots of money, but that was Dad.
"She worked for the well-known business woman Kate Kennedy --the infamous madame of McCarthy. Rose may have been Dad's only true romantic love, but they were always world's apart. Dad must have sensed it, but he did not want to believe it. His cousin Cap, who was probably his best friend, tried to get Dad away from Rose. Cap believed that Rose would destroy Dad. Maybe she did. She moved to Seattle in 1932 when the railroad shut down for the first time. Rose found a rich land developer and married him. Dad must have been beside himself."
"Your husband must have felt privileged to live with such a wonderfully warm woman as you, Rose."
"Gordon? Bless his soul, the man never understood how we Natives are so closely connected to our land. He just couldn't make the leap. But he made me happy anyway.
"Willard, dear, finding you down there in Juneau was the best thing that could happen to me at that time in my life, so soon after Gordon passed on. You grew up a Tlingit, so we understand each other much better."
"Rose, we make a good couple, even if we are getting on a little in years."
"So you were saying you moved away from Chitina early, didn't you?"
"Yes, Willard. My adopted family saw no future in the forgotten railroad town. There wasn't anything left after the railway abandoned the line. It seemed awfully depressing at Chitina after that.
"The old way of life was just not the same as we had all imagined it would be. Once the railroad pulled out, it was like taking crutches away from a cripple.
"Most of my people never recovered from the change the first time around when the railroad first arrived way back in 1910. Once it came into our lives, there was no way back. Some of the elders quietly slipped back into the old style trapping and subsistence life after the railroad was gone. Those people seemed to manage fine. But it was much more difficult for everyone else to find cash. Even when we had money, there wasn't much to buy except booze. There was always booze."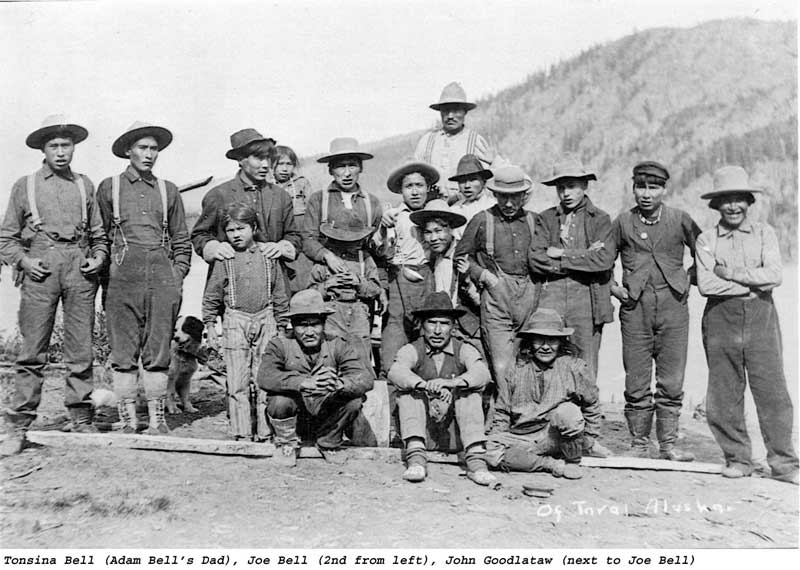 The all-Native seasonal railroad maintenance crew based in Chitina, white boss in the back.

"My new family moved me to Anchorage and I was raised in something that looked like small-town America. Oh, I know it's more like a city now, but it was small then. At least it was alive and had its own railroad. Chitina had nothing and was dead."
"How does it feel to be a successful Native woman lobbyist working for the federation in Juneau?"
"Frustrating. I feel honored, of course, to have gained the confidence of the people who keep sending me back to represent them at our capital in Juneau. But I find myself continually looking for the same elusive thing which Dad constantly sought."
"It's the same for aboriginal people everywhere. We seek the answer to the question, 'what is our rightful place in this white man's world?' For the people of the Copper River valley, it should be easy. We are the descendants of Nicolai and the Ahtnas. That's simple enough. But few of us really fit well into this world even after all this time."
"At one time the answers seemed so easy. Our old way of life was relatively simple. Give us back our subsistence lifestyle and a measure of Native sovereignty and we are on our way. Well, we never really found either. Subsistence is an issue that won't go away, because too many non-Natives believe they are somehow giving us an enormous advantage over the whites."
"The non-Natives won't acknowledge our special place here. Yet our core-being is best expressed through our traditional subsistence practices and the sovereign power we need to maintain our own identity. You're one of us. You know exactly what I mean."
Willard nodded in silent and sympathetic agreement.
"I don't know, Willard. We need those things. I've dedicated my entire adult life to trying to regain what was once ours. But even sovereignty and subsistence is not the whole answer. We need to regain the spirituality we seem to have lost. But that's among ourselves.
As for the others--the non-Natives, the little we ask of them is apparently too much
for them and the politicians the elect who hold the real power down there in Juneau. It is just so frustrating."
"But you say that the subsistence and the matter of sovereignty is not the whole answer."
"It's not. I'm convinced of that now. Dad was on the right track. He was on a lifelong spiritual quest. I sometimes think that we Natives have lost our spirit--our soul. But no one can agree on what that means."
"Do you think this trip into the land of your ancestors will help?"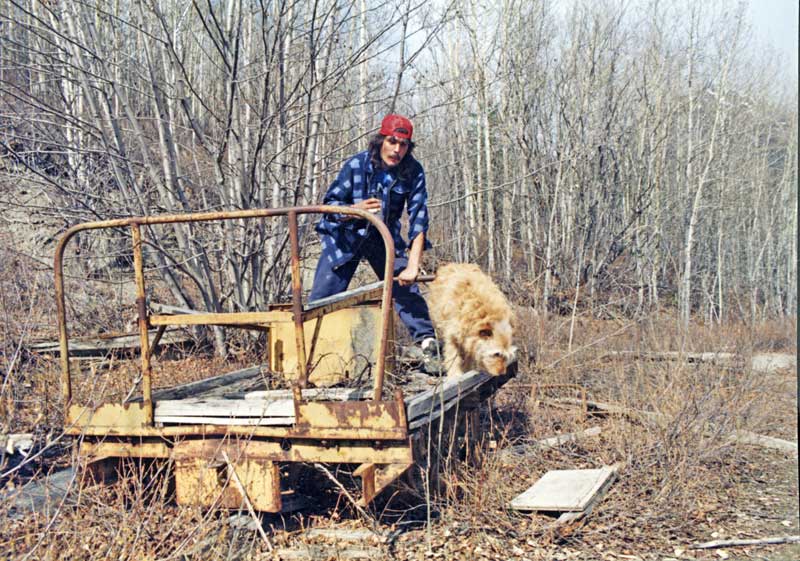 A U.S. Army Speeder left
behind on the west side of the Gilahina Trestle.
"I'm so frustrated, dealing not only with those Juneau politicians and their backers, but even with some of our own self-serving, home-grown Native politicians. I just need to get away. All these years and I've never been up this road. The time for this trip is long overdue. If I can somehow be inspired by what I experience here, all the better."
"Rose, you've something in you that is rare. You seem to be able to sense things even before they happen. I know you've kept those politicians at bay because you always seem to know what they're up to."
"It seems to run in the family. We are a clan of shaman."
"Why is all this so important to you. Being Native, I mean?"
"I have often asked myself that question, Will. I suspect you've asked yourself the same thing many times. There is something about being Native which goes beyond being full or half or even quarter-breed. There is no way to describe it. We Native people have something going between all of us which is peculiar only to us. None of us would ever give it up.
"Besides, I'm a direct descendent of Nicolai himself. His shadow always looms large. Dad was haunted by him. The spirit of Nicolai moved Dad in strange ways and it might have finally driven him off, maybe to his own early demise. I will probably never know. The spirit is strong. The presence of Nicolai is what this valley is all about. It's too bad that so few really understand that.
"Will the spirit of Nicolai ever rest? I have to wonder. I just have to wonder."
The two young grandchildren, playing on the old speeder, turned around to face Rosalene and Willard. They heard the faint sound of the a distant steam whistle. Rose's eyes moved across the top of the collapsing trestle structure. In the distance she could see the Chugach Range with its bright snow-capped peaks reflecting light back toward her.
"Willard, did you hear that? Could it be?"
"Your dad? Nicolai? Sounded like the wind to me. Perhaps we're letting ourselves get carried away with the superstitions from our Native past. Let's go down to the creek and have some lunch, Rose."
Gilahina trestle, circa 1942, when O.A. Nelson's speeder ran the Chitina-McCarthy route after
railroad abandonment in 1938 --Adeline Knutson
Below: Doc Billum, the Copper Valley's most
famous Shaman Sleep-doctor --Candy Waugaman Collection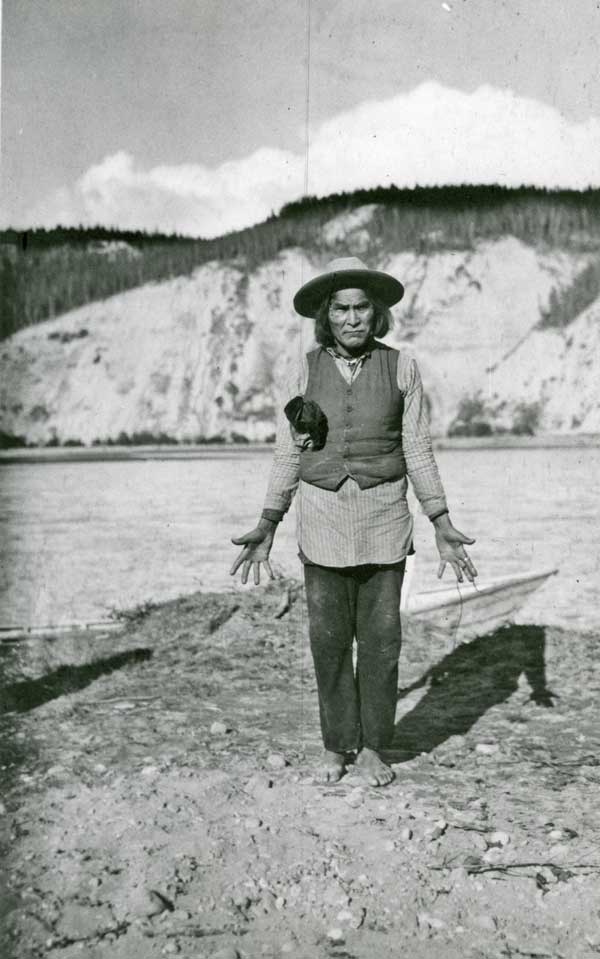 Continue with Chapter 60,