The abandoned railroad right-of-way near Strelna in 1960. --USGS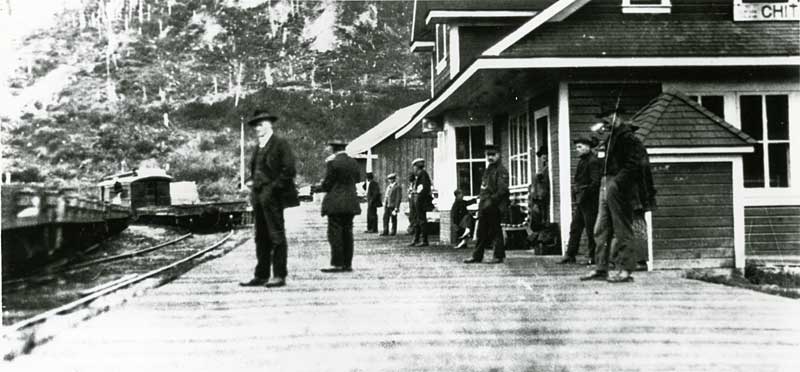 CRNW depot at Chitina --Candy Waugaman
Ore train at the Chitina depot --Candy Waugaman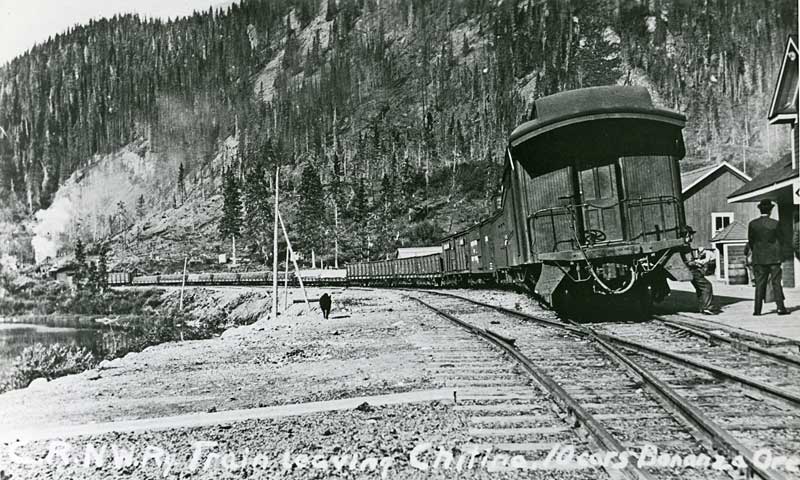 "He must have gone over to Abbey's, Dad. He wanders over there quite a lot. He still thinks it's his home. Abbey treats him well and feeds him from Auntie's supply of
fish."
"Too bad. I'd like to have brought him along on this trip. It would have been just like the old days when Cap and I traveled with Kay-yew-nee.
They stepped up to the station platform. A younger man Johnny did not recognize had taken over the stationmaster's job. It wasn't the same anymore.
It must have seemed very strange to the conductor that the middle-aged Native man and his adolescent son who waited to step aboard the train at the Chitina depot wanted
to go all the way to Kennecott.
"Does someone up there know you're traveling to Kennecott?"
"No. I'm going to say goodbye to the place. That's all. I worked there once. More than once. This is my son Michael. He wants to see where his father once worked. I'm
going to show him."
The conductor was intrigued. He looked at the names on the two passes issued by the
stationmaster.
"It's a pleasure to meet you Mr. Nicolai. You two have a good trip. I'll be keeping
the coal stove warm. There's always have hot coffee on the stove. Feel free to
help yourself. We don't expect any stops until McCarthy, so it'll be a fast
run--and probably a very quiet one. Hop aboard!"
"Wait! You forgot someone."
It was Abbey Webley, running toward the platform, doing her best to hold Tikaani on a leash. Violet was trying to catch up to Abbey and the dog.
"He wants to come along, too. Wish I could go, but I know I can't."
"Abbey, you're such a sweetheart. Thank you so much for bringing Tikaani. How did you know?"
"It's a woman thing. I just knew. You'll never understand."
Violet was out of breath by the time she reached Johnny. She hugged him and gave him a kiss. Then she kissed Michael. Abbey handed Michael the leash.
"You better keep Tikaani on this. They don't like loose dogs up there."
The two boarded the combine with Tikaani in tow. Behind the combine was the old
observation coach once known as the Kennecott. It carried no
passengers. Both cars were expected to be full on the return trip.
Michael was thrilled to be allowed to come with his father. Now he was going to visit
Kennecott--the place which mattered most to his father.

One of the two CRNW combines on the AKRR track after the CRNW closed down:
Photo provided by the AK DNR
"It looks worn, but it's the same old coach. Used to ride this and others like it up and down the line since I was nine or ten when it was brand-new and Mom and I were
visiting Dad. I'll point out all the places I worked along this line from Kotsina to Shushanna Junction as we pass them. I always worked with your uncle Cap. We backed each other up and gave each other the courage to do things we probably never would have done alone. He was great."
"It feels lonely on this line without him being here, doesn't it, Father?"
"It does. I'm so thrilled you decided to come. It would really have been lonely without
you along. I'm thrilled you wanted to join me, Michael."
"I wouldn't have missed it, Dad. We'll never be able to do this again."
It seemed to take almost no time at all for the train to reach the Kennicott River trestle. It was getting dark as the consist hit the long, flat run over the low-lying
bridge before pulling up to the depot. The town of McCarthy showed very few lights. It looked more like a dark profile of ghost town than a real one.
"Will we have time to look around here before we go on to Kennecott?"
"You have about half an hour, sir. Listen for the whistle. Don't wander off too far. I'll be keeping an eye out for you."
"Thank you. Come on, son. Let's take a walk into McCarthy."
The only lights visible down Shushanna Avenue were coming from The Golden. The other buildings appeared to be deserted. The McCarthy Drug Store block was a long line of empty business fronts. The wide drug store still displayed merchandise through the
large plate glass windows. Johnny pressed up his face against the glass to get a
closer look. It looked dead in there.
"This is a spacious place for such a small town," Michael said. He peered through the
glass and saw the soda fountain counter and the row of round, padded stools in
front. He could spot candy in some of the jars, but the place had a grim
appearance. He instinctively backed away from the window.
"I don't like the feel of this place, Father. It's like there's a demon in there. It's an evil
place."
"I don't care for it much either. Let's continue toward the river. I want to show you where Rose lived. See that large building with the tall stack down there? That's the old Mother Lode power plant. We head that way, then veer to the left."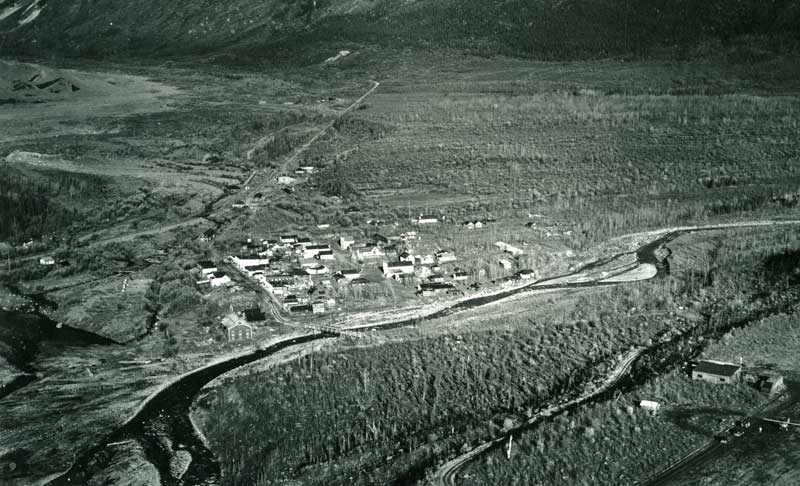 Bradford Washburn aerial of McCarthy in 1939 --UAF AK & Polar Regions Photo Archives
They walked down the road past The Golden toward McCarthy Creek, then followed a narrow path that ran along the creek. A dark row of shanties stood empty along the creek
bank. Johnny pushed open the door of the first one. Inside the furniture was knocked over, and the place looked like someone had ransacked it. He opened another door and found a similar appearance. The third door was locked.
"Someone must still be here. There is one other place I want to look, Son. This is where Rose and I stayed when I was in town."
The door opened readily. The main room was dark and damp. It seemed smaller than the way Johnny remembered it. The place no longer had a welcome feel to it. It smelled old and musty. An empty liquor bottle was tipped on its side on the edge of the
table where Cap once sat and played solitaire.
"Not at all like it was when she was here, but this is the place. Let's go in."
"This is a depressing place, Dad. It has a bad feel to it, like the drug store."
"You're right, son. This is the past. It's dead and deserves to be buried.
Let's get out of here. I want to stop in at The Golden on the way back to the train. Tie Tikaani up by the gas pump."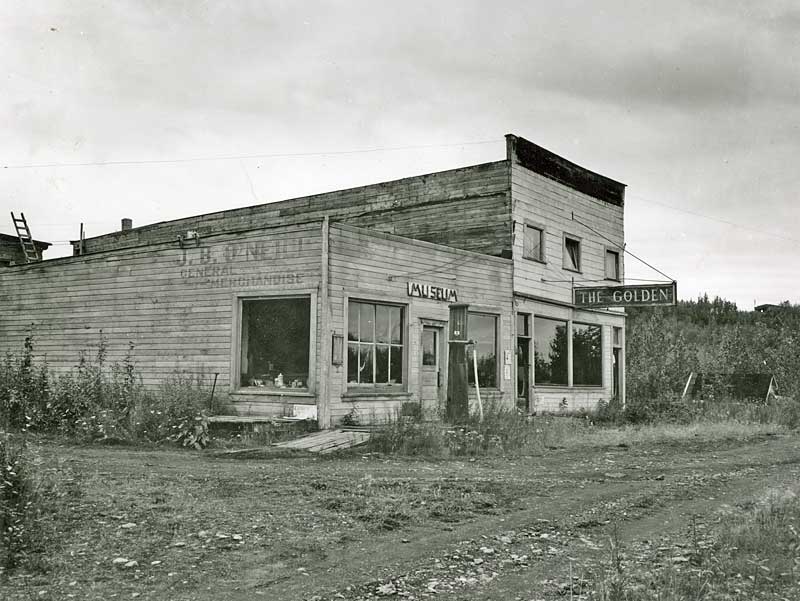 The Golden Bar, ghost town of McCarthy, in 1955 --UAF Archives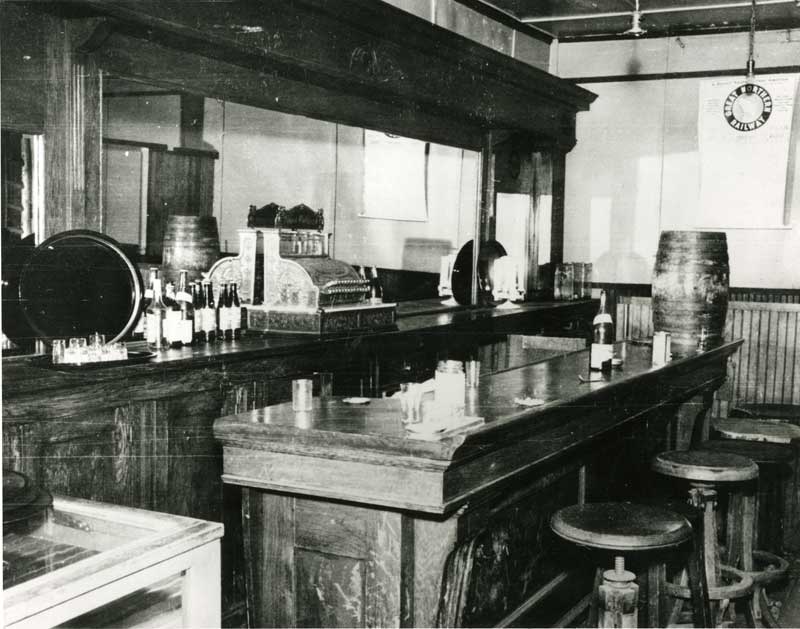 The two of them walked into the bar, which was illuminated by three kerosene lanterns. It looked the same as it always had. Johnny spotted a matronly-looking woman
wearing a large hat with netting over her face, sitting at the corner of the bar. She turned to face him. Her eyes lit up through her stern-appearing glasses.
"Johnny! Never thought I'd see you up here again!"
"It is indeed. I told your friend Cap many years ago that I'd be here to the very end. Well the end has finally arrived. Looks like it's time for me to leave too. Business has died. Almost no one is left, except a few old relics like me."
"It's good to see you again, Kate. I don't think of you as a relic. Have you ever heard from Rose?"
"Know what? I stayed with her in Seattle when she showed up there in '32. It was great at first. She found someone else, though. Rose decided she preferred a man with
loads of money. What else is there to know?"
"You got it right, Johnny. She's still alive and well and living the life of a lady of
leisure. Goodness, that strong woman will probably live forever, just like me. She got hitched to a rich land developer. I guess you already knew that.
"Rose lives like the lady she always thought she was. She invited me to visit if I ever
head in that direction. Looks like I'll be doing just that."
"Rose taught me a lot, but she's no longer part of my life, Kate. I thought we were meant for each other. I was wrong--very wrong. But I still miss her."
"Drink? I'm buying. Who's the boy? Is that your handsome son? Must be. He looks so much like you."
"This is my son, Michael. Michael, this is Kate Kennedy. She was Rose's madame back in the 1920s. Nothing for me, Kate, thanks. I'm trying to stay away from the
alcohol. It nearly did me in. It surely did in my old partner Cap."
"Cap? I remember him well. Beautiful man, he was. And a very nice one. What a shame. He was a gem."
"Thank you Kate. He was good a friend as anyone could ever want. He was always there to back me up. Better than that, we understood each other well. We never tired of
each other's company. Can't say the same for anyone else I've ever known. He might still be alive if I hadn't left him alone like I did. He went in a bad direction afterwards. I feel very guilty about that."
"Son, I want to tell you something. In my long life, many women have worked for me. You know what I did for a living. I was the Madame of the Nizina Valley. Before that I
was a madame at Dawson City. Those women were constantly on the verge of taking a wrong turn. I could probably have saved several of them who died before their time if I'd read the signs right. It's easy to look at what I could have done.
"I could have saved Cap."
"You think you could have saved him. Maybe what happened was meant to be. Sometimes you can't control things as well as you think. But you do the right thing anyway
just because you're you.
"I know I helped others, even when I didn't realize it at the time, because I happened to be there at the right time. Get it? I happened to be there. It was chance. Sometimes life just works like that. Life is strange. It goes on with or without us and regardless of anything we try to do to the contrary. Don't try to second-guess it, Son. Do what you can. Stick with what you know is you. You'll be fine if you stay true to who you really are. That's all you can do."
"I feel that I failed my brother."
"Johnny, You're still a young man. I have a strong feeling that Cap would not have looked at it that way. He was a remarkable and gifted man with an obvious sense of things
which few have, though I can see that same gift in you and even in your son here. Cap went his own way because he had to, just like you did, and that was that. Maybe he thought he failed you as well. Go on with your life, and let the dead rest. At least you're still here. You have a lovely son. I can tell that he's devoted to you. Appreciate what the Lord has given you."
"Never thought I'd hear a madame use that word."
"The Lord? Son, we may be worlds apart, but we all answer to the same power. Call it what you like."
"Thank you, Kate. You always were one of a kind. Bartender!"
Johnny threw two dollar coins on the bar.
"Get Kate another drink on me."
"Good bye, son. You're still a young man, you know. You have a good life for yourself. Don't give up. And don't let the thought of Cap drag you down. You have too
much ahead of you. I'll give your regards to Rose when I see her. I'm on the
train out of here tomorrow."
The large woman stood up and walked over to Johnny. She grabbed him, hugged him hard and kissed him.
"Always wanted to do that. You gave me my chance at the very last possible moment. You made my night. Good bye, Son. God bless you."
Number 74 was ready The whistle blasted its first warning signal as the two stepped out of the door of the old bar. Tikaani sat tied to the pump with his ears pointed
toward the bar door and his tail wagging. He was anxious to leave.
"This town is dead, Father. Whatever life was here has drained away. I want to see
Kennecott."
"That's our destination, son. I'm so glad I decided to take you along."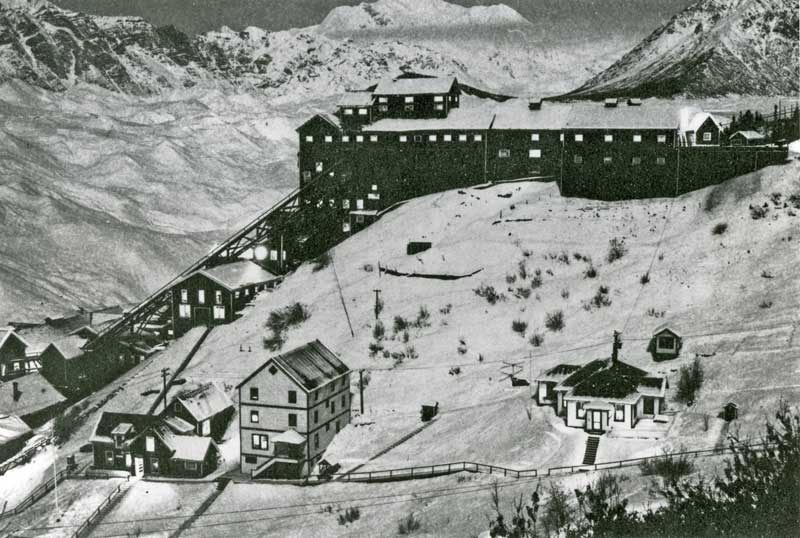 Kennecott at night, showing the office, staff house and superintendent's residence, circa late 1930s. --UAF Archives
The storm from the night before had blown off and the skies had cleared, but by late afternoon another front moved in. First the winds came in from the southeast, then the
snow started falling. By the time the train pulled up to the station, snow was
blowing heavily, swirling around just as it had the night before in Chitina.
The train setup was unusual in several ways. There were no ore cars--only a
long series of box cars. Instead of one combination baggage and passenger car,
the rarely-used observation car had been added. Most noticeable to Johnny, the
locomotive was facing forward as it entered Kennecott. He was used to seeing
the locomotives back all the way up the hill facing the line of cars they were
pulling.
"Too bad, Michael, we can't even see much of the mill town as we pull in. Normally the mill really stands out. You can see the outline of it through the blowing
snows, but I see the lights are out.
"Oh, I didn't expect that. The mill's back to its original red paint again. Your uncle Cap and I painted it light-gray years ago. Somehow I expected to find it the way we
left it. I'm disappointed. We paid heavily for that paint-job."
Johnny leaned back in his red velvet seat and sighed.
"Dad, this is a really great place! The buildings are huge here. Where are we staying?"
"I'll need to make arrangements with the superintendent, whoever he is these days. Hope he's in a mood to take us in. If not, we'll have to sleep in the railroad coach. We
probably won't freeze in here, anyway."
"You want to see it? It was the west barrack. We just rode past there. The lights at the barrack were off. They must have closed it down already. We'll walk over there
first, Son."
They stepped off the back of the coach. No one was there to check them in or direct them anywhere. The small station was closed and vacated. Even the railroad coach
attendant was curiously absent.
"This camp's wide open. You can tell they're almost gone. They don't even care who enters the property anymore."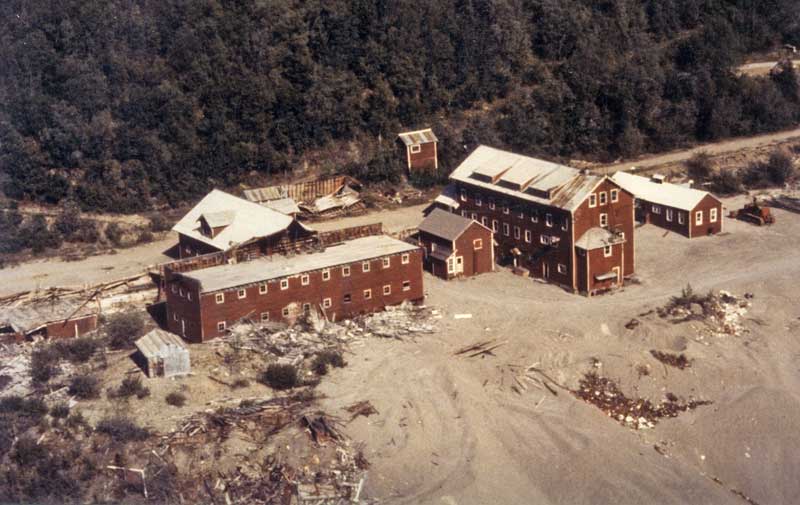 Company Store & West Barrack in 1981. The roof was torn off the Company Store in 1964.
--UAF AK & Polar Regions Archives
They walked through swirling snow to view the west barrack. It's dark here, but let's go up the stairs. The door at the top of the wide entry opened into an unlit foyer.
The dining hall beyond was illuminated only dimly by whatever natural light came
through the windows. The dark forms of the long dining tables could be readily
seen.
"It's cold in here, Dad."
"Sure is. When Cap, Charles and I lived here, it was always warm and cheerful. We had many great meals here. Let's walk upstairs."
They took the winding stairwell to the attic level. The narrow hallway looked uninviting.
"I don't like it up here, Dad."
"I'm going to show you room 205, Michael."
They entered the room. It was just as cold and unfriendly as the hallway.
"When we lived here, it was always too warm. Now I don't even want to be in here. I want to look out the window. We loved the view here. See the mill? We viewed it every
day from here. It was great. That's it. Let's go, Son. I've seen enough."
They rushed down the stairs and out the door. Michael felt like he was being pursued by ghosts. He was relieved to be free of the building. Too many men had lived
there. He felt the presence of many of them.
"It's too miserable to be out here, Son. Let's see who's in the office."
They passed the darkened company store and the carpenters' shop as they headed through the blowing snow toward the brightly-shining general office. It looked most
inviting up there, where at least some sign of life still existed.
At first the well-lit office appeared to be empty. The sound of a Regulator clock subtly ticked away the minutes.
"Dad, we haven't seen anyone at all since we got off the train. Even that attendant
wasn't here when we arrived. What's going on? I don't think I like this."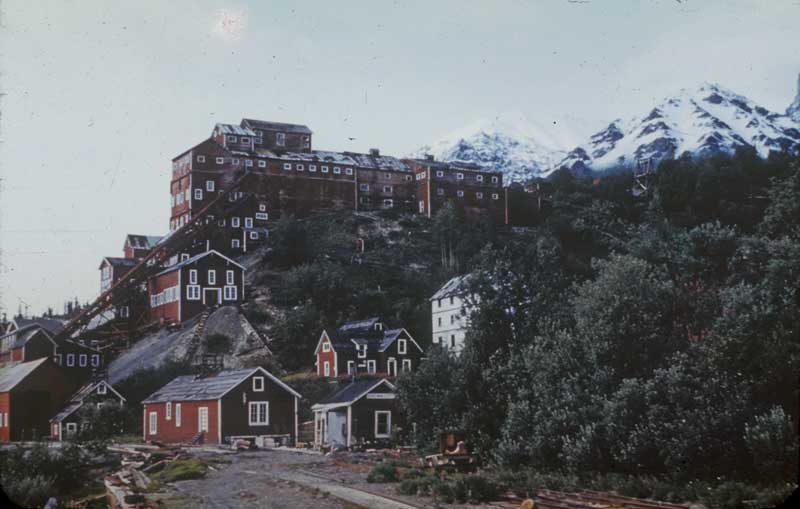 Abandoned Kennecott in the early 1960s. --W.C. Douglass
Continue