The
W
rangell
F
ormation, Pt 1
W

esley

D

unkle -- Chapter 2 of "

L

egacy of the

C

hief"
---
View from the top of the Kennecott mill looking north toward the Glacier Mine along Bonanza Ridge
The old geologist reviewed the notes he had prepared for the class. So much had happened since Wes first signed on as a consulting engineer for Kennecott Corporation so many years ago. A most significant development was an evolving theory called plate techtonics. The theory was proving to be momentous in the understanding of the process of mountain building and volcanoes and the causes of earthquakes. It held that the forces which move terranes or even entire continents result from the interaction of many semi-rigid plates which are the basis of the earth's crust.
Wes was intrigued. It made sense. The theory went a long way toward explaining things which the engineers of his day had to assume as a given. For instance, the geologists had no satisfactory explanation for the origins of the Nicolai greenstone. This was the base layer in the southern slopes of Wrangell Range which appeared to be the ultimate source of the copper in the Wrangells.
Wes Dunkle was scheduled to present a talk to a group of students on the topic of volcanic origins of the copper in the Wrangell Range. Wes had prospected much of the Wrangells while working as a consulting geologist for Kennecott.
It's never too late to learn another wonderful thing about the world we live in. What a privilege to share my old experiences along with this new theory with the young students in this class.
Wesley Earl Dunkle, consulting engineer for Kennecott
The old man walked into the Anchorage high school auditorium, which would be used tonight so Wes could speak before a large group of students taking a course on geology along with several others--teachers and interested residents--who had come just to listen to the famous guest speaker.
It all seemed so modern compared to the frontier-like atmosphere of those days not all that long ago back in the Kennecott of the 1920s. The nation had just gotten out of a war in Korea. The prosperity of 1955 had reached the growing town of Anchorage--the largest community in Wes's adopted home of Alaska. The territory faced a strong likelihood of entering full statehood in the near future. He walked up the steps of a new school with the art-deco look that had come into vogue. The modern-looking building contrasted sharply with the utilitarian frontier appearance of pre-World War II Alaska.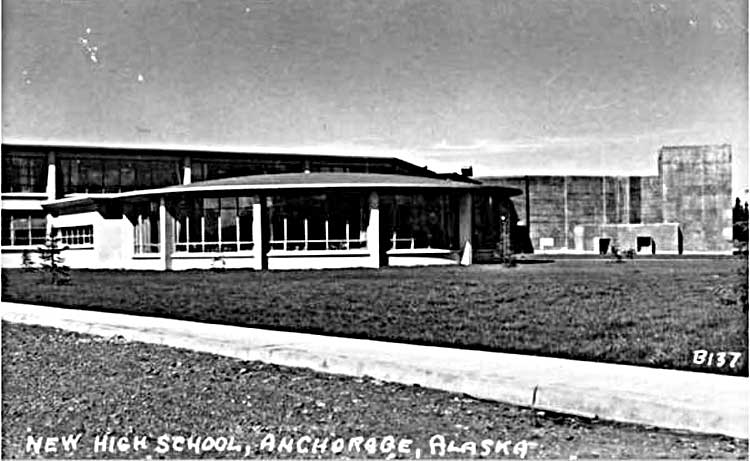 The new school where W.E. Dunkle would have given his college-level class in 1956: This building was also used for the new community college.
A geology instructor no older than thirty stood up to introduce this man who was already considered an Alaskan pioneer.
Historic image of Mt Blackburn from which the Kennicott Glacier originates
"Good afternoon, class and visitors. I have the privilege today of introducing Mr. Wesley Earl Dunkle, a retired mining engineer who is a living part of our early mining history in this great territory of ours. I have asked him to speak on the formation of copper in the Wrangell Range--a topic on which he could be considered an expert by virtue of his personal experience. Mr. Dunkle, meet my geology class 101 and our many guests, including other teachers, students from other classes and several interested locals who have come just to hear you speak."