Pre-Phase III Map:
---
---
I had put this one together before I even considered a Phase II or III layout, probably in 2003. The KMR Extension and the AK-Alcan RR intersect at Whitehorse, along with the WP & Yukon. This map assumes that the CRNW Railway would have survived into modern times, connecting into the modern AKRR at Delta.

My 2003 map includes the Cliff Creek and Coal Creek railroad lines, which were historic short-line narrow gauge coal railroads.
Below you see the existing model RR line (ALCANEX Consolidated Railways System) and one possible extension beginning with the "start of the proposed KMR line" on the right. The line continues through the proposed model town sites of Grand Forks, Klondike City and Dawson City and it includes simulations of the Yukon & Klondike Rivers and Bonanza Creek.
The ALCANEX line includes representations of the AK-Alcan Ry line shown above, as well as the Chitina Local Ry. There is also a White Pass extension area betweeen Sleetmute & Sulphur Springs--the historic end point of the Klondike Mines Railway.
---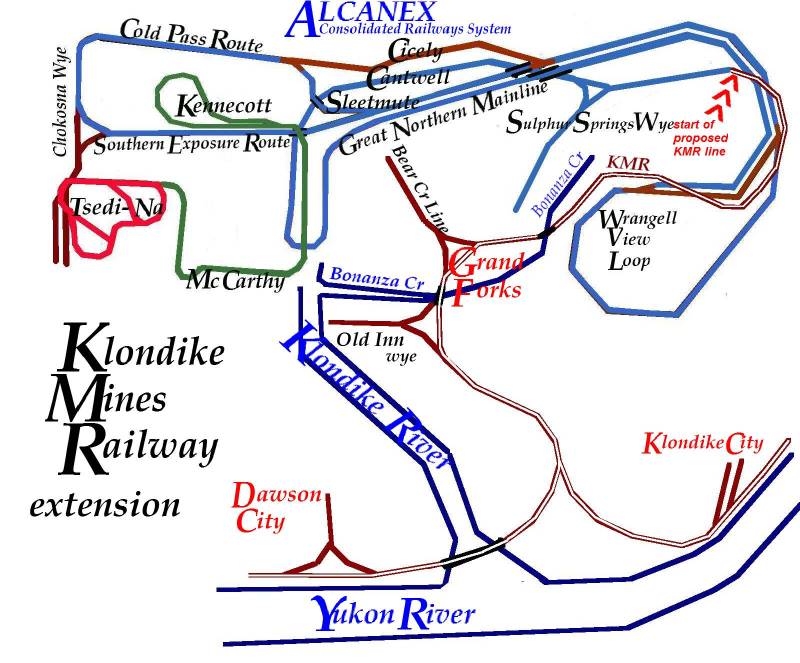 ---